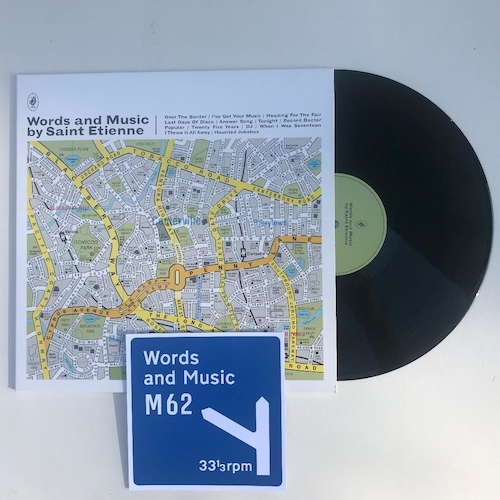 Words And Music - Black Vinyl Edition
| Format | Price | Buy |
| --- | --- | --- |
| Words And Music - Black Vinyl Edition | £25.00 | |
Sorry, Words And Music - Black Vinyl Edition is out of stock.
Description
Words And Music - Black Vinyl Edition
Saint Etienne
Words And Music - Black Vinyl Edition
£26.00
Catalogue number - HVNLP92
Bar Code - 5400863027339
Quantity - will be 200 on sale from 6pm this Thursday
Our eighth album 'Words and Music by Saint Etienne' was released in 2012 and its original vinyl pressing sold out immediately. The album has been re-pressed in both black and coloured vinyl editions and we have just 200 copies of each to sell here. The album is a faithful reproduction of the original complete with printed card inner sleeve and a download card. Those buying from our shop will also receive an exclusive freebie in the form of a 6 inch square postcard designed by Phil Skegg at Dorothy - the man behind the original album sleeve.
The Black Vinyl edition is limited to just 500 pieces worldwide and we have exactly 200 copies to sell here. Each copy comes with a Blue M62 postcard (whilst coloured vinyl editions feature a Green A12 card).
Words and Music by Saint Etienne
Side One
1. Over The Border
2. I've Got Your Music
3. Heading For The Fair
4. Last Days Of Disco
5. Tonight
6. Answer Song
Side Two
1. Record Doctor
2. Popular
3. Twenty Five Years
4. DJ
5. When I Was Seventeen
6. I Threw It All Away
7. Haunted Jukebox