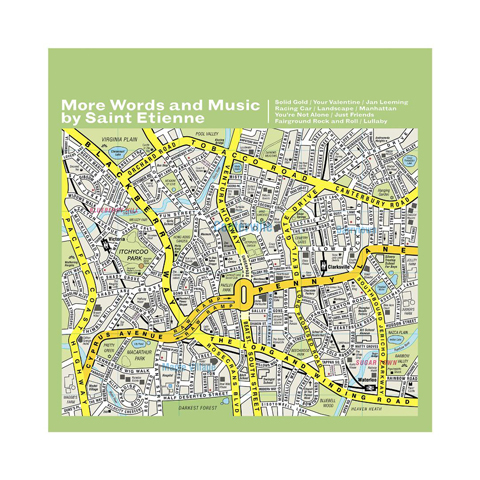 'More Words And Music' Splatter Vinyl LP with free Christmas card/CD
| Format | Price | Buy |
| --- | --- | --- |
| 'More Words And Music' Splatter Vinyl LP with free Christmas card/CD | £25.00 | |
Sorry, 'More Words And Music' Splatter Vinyl LP with free Christmas card/CD is out of stock.
Description
'More Words And Music' Splatter Vinyl LP with free Christmas card/CD
More Words And Music by Saint Etienne - Clear Vinyl with splatters - plus bonus Christmas card /CD
Well, it's that time of year when we ring up our local pressing plant and ask if they might be able to put us on their Christmas list. This year we'll be pressing that long deleted US-only bonus disc 'More Words And Music' on 12" vinyl. When we did the new deluxe CD earlier this year, it did feel like a shame that oddities like Solid Gold, Racing Car and Your Valentine hadn't made it onto vinyl. So here they are! Exactly as it was released in 2012 but now on beautiful clear vinyl with green, yellow and black splatter effect to match the main album, or for purists an even more limited black vinyl edition. Sleeve design comes courtesy of Paul Kelly and of course features the Phil Skegg/Dorothy song map. A companion album to the record the Guardian's Michael Hann considers our best ever.
As there's nothing new on the record, anyone who places an order will also receive our Christmas 2020 CD-stroke-Christmas card. This contains three brand new recordings: Access To All Alone, Toot Baldon and Wish Park. Not actual Christmas bangers, as this didn't really feel like the year for our Shaky tribute, but all three are exclusive songs. Sleeve photography is by Alasdair McLellan and the EP was produced by Augustin Bousfield of Bradford legends Gurgles, and we think you'll like it.
• Splatter vinyl matches the 'Words And Music' colours with white replaced by clear vinyl
• only orders placed prior to Christmas 2020 will include the Christmas Card/CD
• one card per order
• each album comes with a free download card
• Splatter vinyl is limited to 1000 copies worldwide
Foreign Office FO015
Side One
1. Solid Gold
2. Your Valentine
3. Jan Leeming
4. Racing Car
5. Landscape
Side Two
1. Manhattan
2. You're Not Alone
3. Just Friends
4. Fairground Rock And Roll
5. Lullaby
Tracklisting for Xmas 2020 EP
1. Access to All Alone
2. Toot Baldon
3. Wish Park