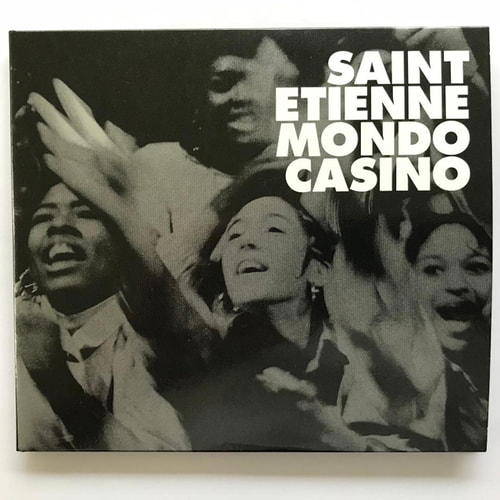 Mondo Casino Double CD
| Format | Price | Buy |
| --- | --- | --- |
| Mondo Casino Double CD | £15.00 | |
Sorry, Mondo Casino Double CD is out of stock.
Description
Mondo Casino Double CD
Mondo Casino - £15
HVNLP164CD
Mondo Casino is a limited edition (1100 units) twenty track double CD of Saint Etienne remixes that was offered exclusively to those who attended Saint Etienne's recent Good Humor shows in America, Canada and London.
We are offering the last remaining stock of these - around 200 CD's - either individually or as a discounted bundle with the accompanying 'Surrey EP' - from 5pm (UK time) on Wednesday 24th October.
The album is the perfect companion piece to Casino Classics (with no duplication of tracks) and gathers together rare remixes, many on CD for the first time. Housed in a gatefold card wallet the album includes:
Disc One
01. Only Love Can Break Your Heart - Kenny Dope and Louie Vega
02. Sylvie - Bronx Dogs remix
03. Nothing Can Stop us - Masters At Work Dub
04. Magpie Eyes - Kane West remix
05. Like A Motorway - David Holmes - full length 13.00 remix
06. Soft Like Me - Mr Joshua remix
07. Like A Motorway - Chemical Brothers Vocal Mix
08. Lose That Girl - Trouser Enthusiast Brides In The Bath Mix
09. He's On The Phone - Motiv 8 Dub
10. Action - DJ Tiesto instrumental
Disc Two
01. Spring - Air France remix
02. Mr Donut - Kid Loco Melody Belleville mix
03. Heart Failed - Two Lone Swordsmen Dub
04. Magpie Eyes - Confidence Man remix
05. Cool Kids Of Death - Underworld - full length 14.18 remix
06. How We Used To Live - Dot Allison remix
07. Avenue - A.R. Kane Martial Mix
08. Sylvie - Faze Action bonus tickle mix
09. I've Got Your Music - Leo Zero remix
10. Saturday - Fugu remix