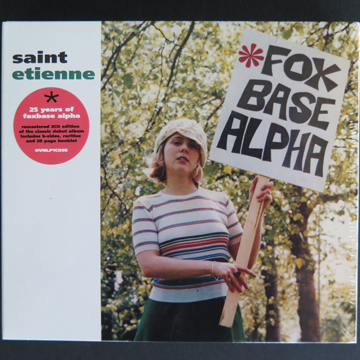 Foxbase Alpha Double CD
Available Formats
Tracks
Price
Buy
CD Double Album (Deluxe Edition)
27 tracks

£

12.50

Out of stock
Description
Saint Etienne - Foxbase Alpha Double CD
Foxbase Alpha
Double CD
Available for the first time in the Saint Etienne web shop.
This is essentially a straight re-press of the (long deleted) 2008 Universal Deluxe Edition.
It comes with a lavish 28 page booklet with extensive sleeve notes by Tom Ewing and Jon Savage.
Disc one is the original Foxbase Alpha album whilst disc two gathers together 14 rare tracks from the era. If you're a CD person and missed this the first time around - now's your chance.
Available to purchase at £12.50 October.
Other deleted titles from this series coming soon.
Price £12.50 plus postage
Catalogue number: HVNLP1CDSE
Tracklisting
CD Double Album (Deluxe Edition) (HVNLP1CDSE)
Saint Etienne

- This Is Radio Etienne

Saint Etienne

- Only Love Can Break Your Heart

Saint Etienne

- Wilson

Saint Etienne

- Carnt Sleep

Saint Etienne

- Girl VII

Saint Etienne

- Spring

Saint Etienne

- She's The One

Saint Etienne

- Stoned To Say The Least

Saint Etienne

- Nothing Can Stop Us Now

Saint Etienne

- Etienne Gonna Die

Saint Etienne

- London Belongs To Me

Saint Etienne

- Like The Swallow

Saint Etienne

- Dilworth's Theme
Saint Etienne

- Kiss And Make Up - Extended Version
Saint Etienne
- Filthy
Saint Etienne
- Chase HQ
Saint Etienne
- Sally Space
Saint Etienne
- The Reckoning
Saint Etienne
- Speedwell
Saint Etienne
- Parliament Hill
Saint Etienne
- People Get Real
Saint Etienne
- Sweet Pea
Saint Etienne
- Winter In America
Saint Etienne
- Fake 88
Saint Etienne
- Studio Kinda Filthy
Saint Etienne
- Kiss And Make Up - Sarah Cracknell Version
Saint Etienne
- Sky's Dead