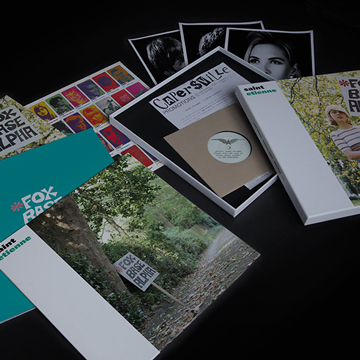 Foxbase Alpha Vinyl Box Set
Available Formats
Tracks
Price
Buy
12" Vinyl Boxed Set (25th Anniversary Box Set)
24 tracks

£

50.00

Out of stock
Description
Saint Etienne - Foxbase Alpha Vinyl Box Set
Special Edition Box Set
"And now ladies and gentlemen, what you've been waiting for!"
Limited to just 2000 copies worldwide the box includes:
* The original album remastered and cut onto two twelve inch 45rpm discs for higher fidelity, housed in an exclusive gatefold version of the original sleeve.
* 'Remains Of The Day', an exclusive album that gathers together ten rare 'Foxbase Alpha'-era recordings from the period most of which are appearing on vinyl for the first time.
* An exclusive one-sided 7" featuring the original, previously unreleased version of 'Kiss And Make Up', featuring 'Only Love Can Break Your Heart' singer Moira Lambert.
* A perfect bound, 12" square, 28 page book featuring many unseen photographs and artefacts from the era, plus a new interview with Bob Stanley by the Guardian's Michael Hann.
* Three 10"x 8" black and white portraits of the group.
* A perforated sheet of Foxbase Alpha trading cards.
* Exact reproductions of the original album press release and biography.
* A digital download code for all of the music.
All items included in the box are exclusive and won't be available elsewhere.
The box can be pre-ordered at £50 (plus postage) from from 5pm GMT on Thursday 27th October.
If you order other products from the shop at the same time as the box set they will be shipped separately so you get them as soon as possible
Price £50 plus postage
Catalogue number: HVNLP1SE
Tracklisting
12" Vinyl Boxed Set (25th Anniversary Box Set) (HVNLP1SE)
Saint Etienne

- This Is Radio Etienne

Saint Etienne

- Only Love Can Break Your Heart

Saint Etienne

- Wilson

Saint Etienne

- Carnt Sleep

Saint Etienne

- Girl VII

Saint Etienne

- Spring

Saint Etienne

- She's The One
Saint Etienne

- Stoned To Say The Least
Saint Etienne
- Nothing Can Stop Us
Saint Etienne
- Etienne Gonna Die
Saint Etienne
- London Belongs To Me
Saint Etienne
- Like The Swallow
Saint Etienne
- Dilworth's Theme
Saint Etienne

- Kiss And Make Up
Saint Etienne
- Filthy
Saint Etienne
- Chase HQ
Saint Etienne
- Sally Space
Saint Etienne
- Sweet Pea
Saint Etienne
- The Reckoning
Saint Etienne
- People Get Real
Saint Etienne
- Winter In America
Saint Etienne
- Speedwell
Saint Etienne
- Fake 88
Saint Etienne

- kiss and make up (Demo)