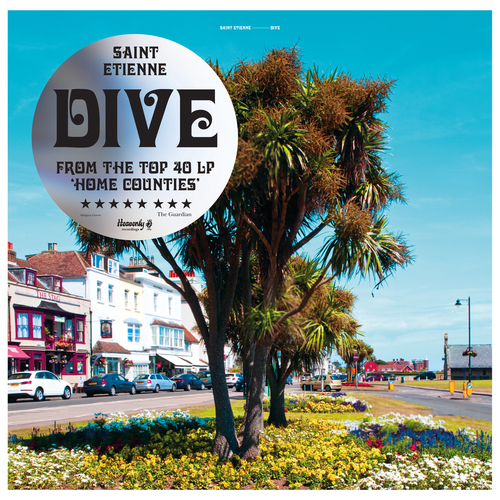 Dive - 12" Vinyl EP
Available Formats
Tracks
Price
Buy
12" Vinyl EP
4 tracks

£

9.00
Description
Saint Etienne - Dive - 12" Vinyl EP

Price £9 plus shipping.

The new Saint Etienne single is 'Dive' and will be released on Friday September 8th.

The 12" single includes four tracks as follows:

Side One

1. Dive - Radio version
2. Dive - Colorama & Shawn Lee remix

Side Two

1. Dive - Greg Wilson & Derek Kaye remix
2. Dive - Matt Berry remix

The 'Dive' 12" comes in a hand stickered colour picture sleeve.

The remixes are three of the best we've ever had done and here's what Sarah says about the Colorama and Shawn Lee mix.

"It's a full on 8 minute disco epic. Get your dancing shoes on for this one and the Greg Willson/Derek Kaye version. You won't be disappointed!!"

Here's what Bob had to say about the Greg Wilson & Derek Kaye Mix.

"Greg is an all time discotheque hero and has, along with Derek Kaye, understood the school holiday essence of 'Dive' and made something liquid and beautiful."

And after hearing TV legend Matt Berry's mix Pete declared….."This is everything you would hope a Matt Berry remix would be - like a cover of 'Dive' by the K.P.M. All Stars performed in Scarfolk town hall."





Tracklisting
12" Vinyl EP (HVN41212)
Saint Etienne

- Dive (3.35 Edit)

Saint Etienne

- Dive (Colorama & Shawn Lee Remix)

Saint Etienne

- Dive (Greg Wilson & Derek Kaye Remix)

Saint Etienne

- Dive (Matt Berry Remix)